Podcast: Play in new window | Download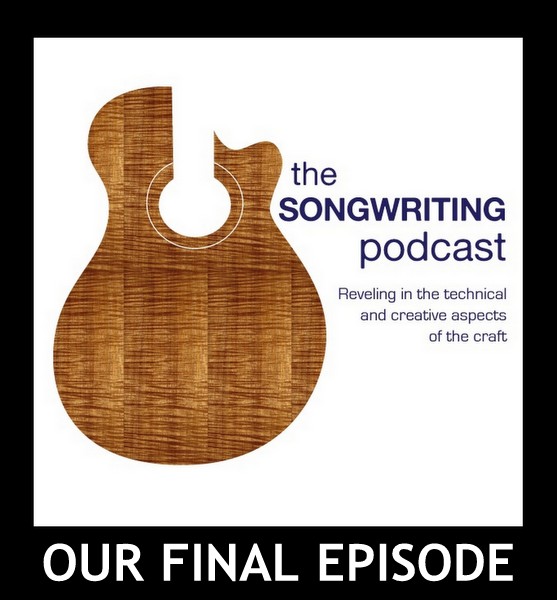 Episode 17 is our final episode of The Songwriting Podcast. We're sure that this news will probably come as a shock and a disappointment to many of our faithful listeners, so Jason will give you his reasons as you listen to this episode.
Jason also has Craig, Grant and Nashville Steve Rempis with him to help give you a warm and loving send-off with the possible hope and prospect of a potential sister, spin-off podcast that's very similar to this one… (But believe it or not, Listeners, that's kind of up to you… Pay attention to everything written in red below.) More on this new songwriting-related podcast during this episode…
Here is a rough agenda of what we cover during our final episode:
I. The announcement, explanation and the cloudy future of The Songwriting Podcast
II. "Moving to Nashville" segment by Nashville Steve Rempis
HERE IS STEVE'S E-MAIL ADDRESS. YOU'LL NEED IT: Steve (AT) SteveRempis (DOT) com
III. Mesake's Tunes: Introducing Mesake's first song, "Fine Lines"
Mesake on SoundCloud
IV. Answer e-mail backlog and Send Your Song reviews
Artists and links:
DAEVA
Band members:
Vox and Bass: Christopher Uryga
Guitar: D.J. Palmer
Drums: Kyle O'Neil
"Shine"
Facebook
YouTube
ACADEMY STREET MUSIC
Andrew Lampone and Gino
Send Your Song: "Everywhere"
MySpace
Facebook
OurStage Profile
LIFE IS HARD
featuring COLE HANSEN
Featured Song: "Seasons"
"Ten Miles 'Till Empty" video shot by Craig Tovey
Life Is Hard recommends checking out guitarist Nick Matzke.
HENRIC OF RUBICON
Send Your Song: "White in Bloom"
JOHN MALLOY, singer-songwriter from Portland, Maine
NoiseTrade.com
YouTube
V. Golden Nugget Songwriting Advice From Our Guests and Hosts:
– Nate Johnivan and Cole Hansen of Nate and Cole Find a Radio
Nate Johnivan.com
Cole on SoundCloud
Episode 7
– Jeremy Batten, Michael Stewart and Bill Barnes
The Ultimatums.com
Bill Barnes is a host on Movie Podcast Weekly
Episode 8
– Fred Ingram
Fred on Reverbnation
Episode 10
– Matt Call of Lewis
Lewis on Bandcamp
Episode 12
– Bryan Odeen of Little Bluestem
Little Bluestem on Facebook
Episode 14
– NASHVILLE STEVE REMPIS
Steve Rempis.com
Twitter: @SteveRempis
Episode 9
YouTube: "A Little Behind"
Steve on SoundCloud
E-mail Nashville Steve about starting a podcast: Steve (AT) SteveRempis (DOT) com
– CRAIG TOVEY
YouTube
CTS Podcast: Star Trek 1-5
– GRANT ADAMS
E-mail: drgrantadams (AT) gmail (DOT) com
Episode 11
– JASON PYLES
MOVIE PODCAST WEEKLY
Twitter: @MovieCastWeekly
E-mail: MoviePodcastWeekly@gmail.com
Podcasting Revolution (a TV podcast about NBC's "Revolution")
The song at the end of this episode is "A Better World," by Jason Pyles
Our special thanks to these very close friends of this podcast:
Nashville Steve Rempis
Dave Eaton
Dan Korhonen (and Fluff Dawg)
Life Is Hard
We also wish to thank The Dave Eaton Element for the use of its tunes for our theme music, and we'd also like to thank Kara Brewer for her graphic design work.
The Songwriting Podcast was a bi-weekly music podcast where three hosts reveled in the technical and creative aspects of the craft of songwriting. You can find all our episodes at SongwritingPodcast.com Your hosts of The Songwriting Podcast were Craig Tovey, Grant Adams, Jason Pyles, and Steve Rempis.
Episode 17 of The Songwriting Podcast was recorded on October 10, 2012.