Podcast: Play in new window | Download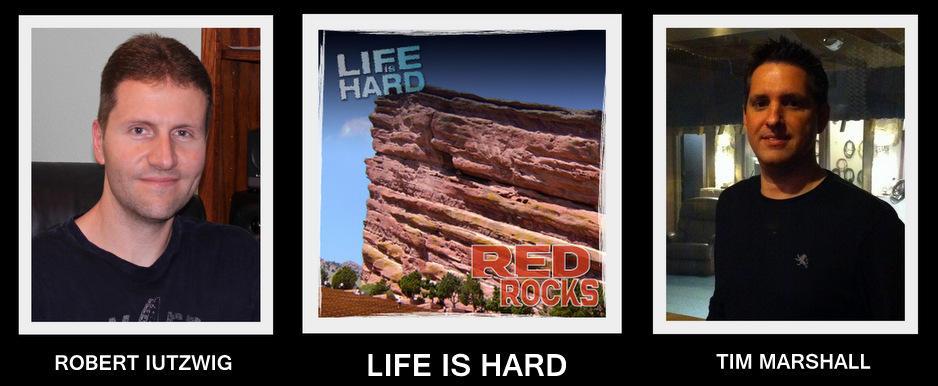 The Songwriting Podcast is a monthly music podcast where three hosts revel in the technical and creative aspects of the craft of songwriting, with the help of guest songwriters or some other music industry professional.
But this show is a BONUS episode featuring a lecture-style interview with a songwriter duo called Life Is Hard, consisting of Robert Iutzwig and Tim Marshall.
Life Is Hard has one of the best examples of a professional online presence that we've seen from indie musicians who aren't funded by the marketing muscle of a major label. So, The Songwriting Podcast asked these experts to teach us all about Internet Marketing and Recording on a Budget.
In fact, Life Is Hard was kind enough to prepare a very valuable, 16-page PDF document from their lecture notes, which also include various links. Click here to download Life Is Hard's Indie Artist Guide to Music Marketing.
And as always, we took some time to play a song by Rob and Tim called "Red Rocks." They explain their songwriting process for that tune afterward.
LIFE IS HARD Links (See what we mean?) :
last.fm (indie radio)
Radio Indy (indie radio)
IM Radio (indie radio)
… And we think they have even more, but you get the point. Life Is Hard is working hard and doing their Internet marketing right.
Your hosts are Craig Tovey, Grant Adams (though he's absent during this episode) and Jason Pyles. The Songwriting Podcast posts new episodes on the first day of every month — and we'll be posting Episode 9 here on May 1.
And here is a list of some other links referenced during this episode:
The Dave Eaton Element's Bandcamp Page
Pomplamoose's YouTube Music Video for "Bust Your Knee Caps"
A MUST-READ Article on Pomplamoose by the Houston Press
Kawika Heftel at Heftel Studios
Book recommendation: "Making Music Make Money" by Eric Beall
Book recommendation: "Songwriters on Songwriting: Revised and Expanded" by Paul Zollo
"The Devil and Daniel Johnston" (2005)
The Songwriting Podcast's Facebook Fan Page
The Songwriting Podcast's Twitter: @SongPodcast
Listener Feedback Hotline — (801) 382-8789
SEND YOUR SONG — songwritingpodcast@gmail.com
We'd like to thank the Dave Eaton Element for the use of its tunes for our theme music, and we'd also like to thank Kara Brewer for her graphic design work.
This bonus episode of The Songwriting Podcast was recorded on April 7, 2012.