Podcast: Play in new window | Download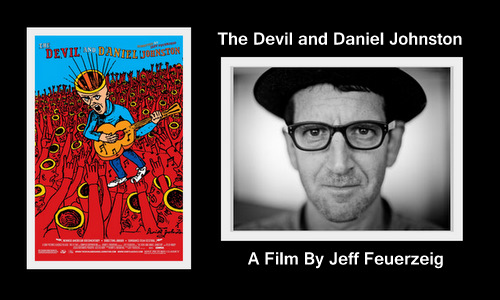 The Songwriting Podcast is a monthly music podcast where three hosts revel in the technical and creative aspects of the craft of songwriting, with the help of a guest songwriter or some other music industry professional.
But this show is a BONUS episode featuring an interview with filmmaker Jeff Feuerzeig, the director who made the must-see music documentary "The Devil and Daniel Johnston" (2005).
Jeff Feuerzeig is an award-winning director, non-fiction filmmaker and screenwriter. Jeff won the top documentary directing honors at the 2005 Sundance Film Festival for his film "The Devil and Daniel Johnston." This film also won the Audience Award for Best Documentary at the San Francisco Independent Film Festival.
Our theme for this episode is Motivation: Creating Art for Art's Sake, and we discuss Jeff's documentary "The Devil and Daniel Johnston" and its titular subject, songwriter Daniel Johnston, to illustrate our conversation.
Your hosts are Craig Tovey, Grant Adams (though he's absent during this episode) and Jason Pyles. The Songwriting Podcast posts new episodes on the first day of every month — and we'll be posting Episode 8 here on April 1.
For more information on Jeff Feuerzeig and his films, including "The Real Rocky," "The Dude," "The Devil and Daniel Johnston," "Half Japanese: The Band That Would Be King" and other upcoming films, visit his site at www.JeffFeuerzeig.com.
You can hear another great podcast interview with Jeff Feuerzeig regarding his film "The Devil and Daniel Johnston" on The Documentary Blog Podcast, Episode 1. This interview covers more of the filmmaking background and more interesting information about Daniel Johnston. Highly recommended!
Here are some other links to check out relating to Daniel Johnston:
The album that Jeff Feuerzeig highly recommended: "It's Spooky"
A Few Daniel Johnston YouTube Videos:
— Story of an Artist
— Some Things Last a Long Time
— True Love Will Find You in the End
— I Live My Broken Dreams
Daniel Johnston Web Store: HiHowAreYou.com
A decent Daniel Johnston discography (with individual song listings)
We'd like to thank the Dave Eaton Element for the use of its tunes for our theme music, and we'd also like to thank Kara Brewer for her graphic design work.
This bonus episode of The Songwriting Podcast was recorded on March 14, 2012, and it's dedicated to manager Jeff Tartakov.