Podcast: Play in new window | Download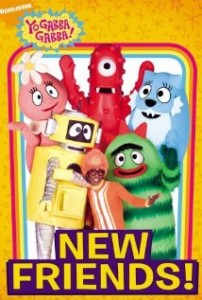 The Songwriting Podcast is a monthly music podcast where three hosts revel in the technical and creative aspects of the craft of songwriting, with the help of a guest songwriter or some other music industry professional.
Episode 4 features three songwriters from the children's, hit television show, Yo Gabba Gabba. This episode features Music Supervisor Ben Schultz, Composer and Sound Editor Adam Deibert, and songwriter "Mossy." Our discussion topic theme is the Business of TV Series Writing and Children's Songwriting, among other things. We take a closer look at the Yo Gabba Gabba medley "Save the Princess," and of course, this episode also features our specialty segments, Send Your Song, Craig Can Write — and two new segments: Don't Do the Dumb Things That Jason Did and Moving to Nashville, featuring Steve Rempis.
Send Your Song: The hosts of The Songwriting Podcast invite budding and seasoned songwriters to send your song to us, and we will critique it on the show, giving you constructive feedback on your work, which consists of positive and negative points, and is merely based on our opinions. For this fourth episode, Steve Rempis sent his song, "40" for this review segment. Contact us about sending your song at SongwritingPodcast@Gmail.com.
Grant's Rants … and Raves by Grant Adams
Rants: As promised, I've got some nasty cuts, along with some healthy alternatives for hard rock and R&B groups with female singers. One is too tame and one is totally lame. Paramore is releasing three singles over three months on the radio and on their Web site. The first is called "Renegade." The lyrics go, "I'm a renegade. It's in my blood," but the song is so mild I'm not sure anyone buys that. Next, you can do yourself a favor and avoid Rihanna's new CD. Absolutely meaningless and boring. If you're looking for some good music, leave the Wal-Mart music department and go to a real record store. Look for a '90s hard rock band called Eleven. Their talented singer-bassist, Natasha Shneider, has recently passed away but left some great music behind. The other two band members are in Spinerette, another awesome band, led by Smokin' Brody Dalle. If R&B is your thing, I recommend the new Jill Scott or Mary J. Blige albums, or better yet, Janelle Monae.
Raves: If you're looking for some good music to give over the holidays, get these stocking-stuffers: First off, The Black Keys' new album, "El Camino," is available December 6, and you can pre-order it now on their Web site. The first single is already out, and each album has gotten better, more experimental and more soulful at the same time. Go check it out. Mumford & Sons is expected to have a new CD out soon. I thought I'd be tired of listening to their CD, "Sigh No More," but surprisingly, that hasn't happened yet. Any band that makes it onto the popular, modern-alternative stations with a banjo is cool with me. Plus, the songs are really well written. Finally, check out a band I just discovered called The Sharp Things. They're a New York City-based chamber pop collective that's actually been around since the '90s. This group has a really dynamic sound. They're led by singer-songwriter Perry Serpa and feature 11 musicians, though they've had more than 30 artists come and go over the past decade. Look for their upcoming fourth studio album.
Your hosts are Craig Tovey, Grant Adams and Jason Pyles. The Songwriting Podcast posts new episodes on the first day of every month. To contact us or to send your feedback, you can leave a voice mail at (801) 382-8789, or as noted above, you can e-mail us at SongwritingPodcast@Gmail.com. And you can also find us on Facebook.
For more information on Yo Gabba Gabba and its songwriters, you can visit Yo Gabba Gabba.com or the Yo Gabba Gabba production blog. Craig recommends the Aquabats' "We Can Do It" clip, and Grant recommends checking out the Yo Gabba Gabba.com Halloween Mixulator.
We'd like to thank the Dave Eaton Element for the use of its tunes for our theme music, and we'd also like to thank Kara Brewer for her graphic design work.
And by the way, if you like this podcast, Jason hosts two movie-related shows called the Considering the Sequels Podcast and he co-hosts The Weekly Horror Movie Podcast with his pal, Craig "Terror" Tovey.
For next month's episode, we'll be featuring songwriter "Midnight Corey" Graham, whose music can be found at MidnightCorey.com/music.
Episode 4 of The Songwriting Podcast was recorded on November 23, 2011.