Podcast: Play in new window | Download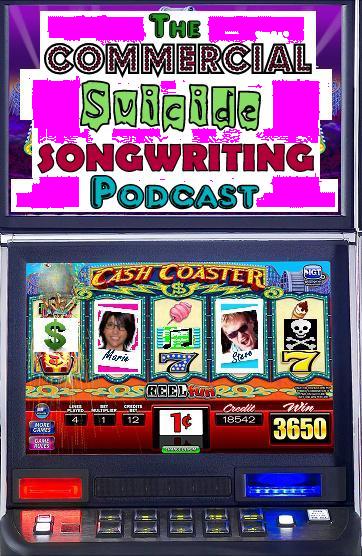 For those who have been saddened by the end of The Songwriting Podcast, we are pleased to announce that our very own Nashville Steve Rempis (who previously did our "Moving to Nashville" segments) has now launched his own songwriting podcast:
COMMERCIAL SUICIDE SONGWRITING PODCAST
With the knowledgeable help of his co-host, Marie Perry (another listener of The Songwriting Podcast), Nashville Steve will bring you educational segments, such as "Notes and Bolts," "Under the Microscope," "Steve's Phone," "Marie's Academic Moment," "Legendary Songwriter Salute," "What the @#%$&!?," "Local Scene Report" and "The CSSP Mailbag." (For a description of these segments, visit Commercial Suicide Songwriting Podcast.com.
In an attempt to inform The Songwriting Podcast subscribers about Steve and Marie's new podcast, we have sent their first episode down The Songwriting Podcast feed. But that's the only episode that will be delivered through The Songwriting Podcast! So, be sure to subscribe to COMMERCIAL SUICIDE SONGWRITING PODCAST on iTunes: Subscribe!
Here are the other Links for COMMERCIAL SUICIDE SONGWRITING PODCAST:
COMMERCIAL SUICIDE SONGWRITING PODCAST.com
Follow CSSP on Twitter: @CSSPod
Commercial Suicide Songwriting Podcast: RSS Feed
And for those who want to keep up with Jason and his movie review and TV show podcast:
MOVIE PODCAST WEEKLY
Twitter: @MovieCastWeekly
E-mail: MoviePodcastWeekly@gmail.com
Podcasting Revolution (a TV podcast about NBC's "Revolution")
The Songwriting Podcast wishes Steve and Marie the best of luck with their new podcast. We've already listened to their first episode, and it's going to be an exceptional source of information and entertainment for songwriters around the world. We are subscribed, and we will be listening!
Jason