Podcast: Play in new window | Download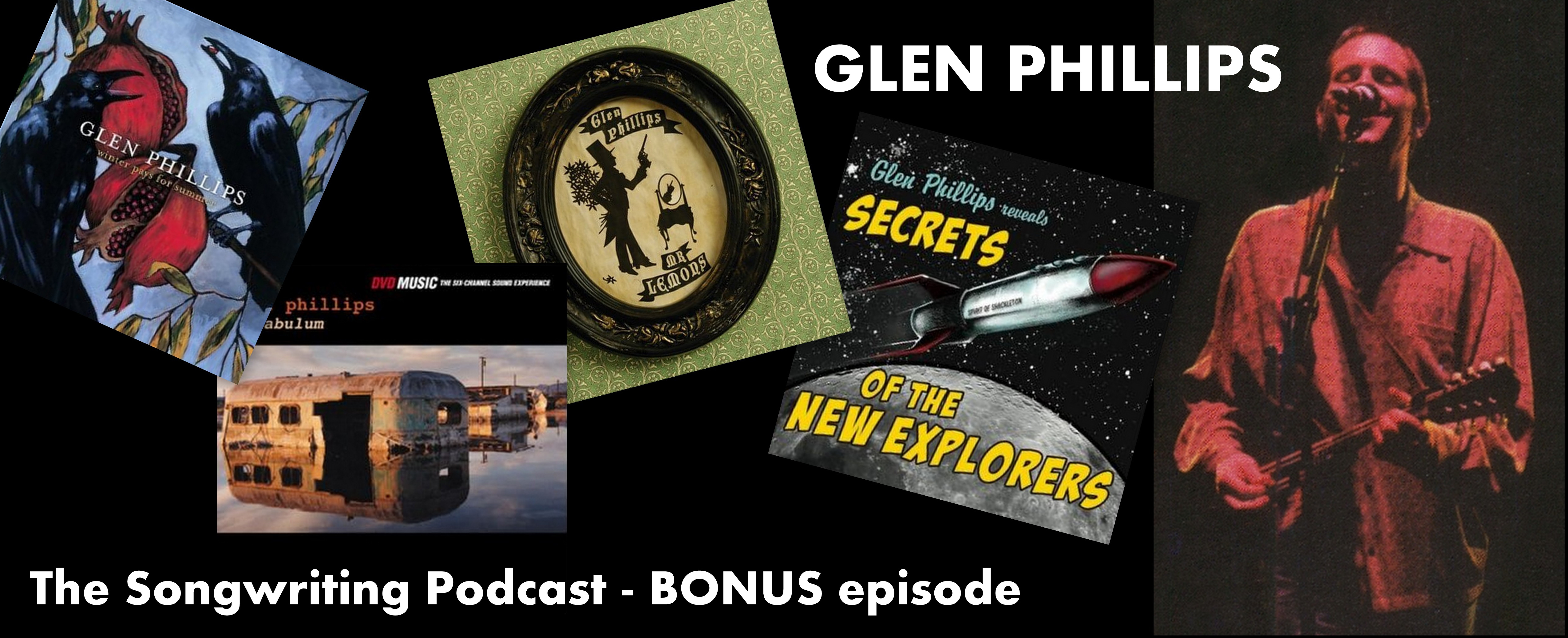 The Songwriting Podcast is a monthly music podcast where three hosts revel in the technical and creative aspects of the craft of songwriting, with the help of a guest songwriter or some other music industry professional.
But this show is a BONUS episode featuring a 70-minute interview with singer-songwriter Glen Phillips, who is the frontman of the '90s alternative rock band, Toad the Wet Sprocket, and he's a successful solo artist, as well.
Glen talks with us about his songwriting process; which instruments he prefers to write on; how songs were written as collaborations in Toad — including some background info on the writing of "Walk on the Ocean" and "I Will Not Take These Things for Granted."
Glen also talks about what he values in a co-writer; whether he finds it easier to write for an assignment; the background for his collaboration with John Askew on "Secrets of the New Explorers" and "Remote Tree Children." We also ask Glen for his thoughts on writing lyrics and avoiding cliches.
Toad fans will be interested in hearing Glen briefly speak about the new album that Toad the Wet Sprocket is working on, and the style and flavor of the new songs he's been writing for that album. Oh, and we include a speed round of about 20 random questions on Glen's various preferences that aren't necessarily musically related.
And as always, we play an entire song by our guest. Glen chose his song, "Rise Up," and he shares a very personal story behind the writing of that song.
This bonus episode also features two guest hosts and songwriters, Bill Barnes and Chris Barragan — along with your usual hosts, Craig Tovey and Jason Pyles. And Grant Adams graciously agreed to sit out during this show, since we had so many interviewers. Thanks, Grant. We owe you.
Links from this episode:
Purchase Music: Glen Phillips on Bandcamp (also see Jason's recommendations below)
Glen on Twitter: @GlenPhillips
See Glen perform live: Tour Dates
Watch Bill Barnes sing "Walk on the Ocean" with Glen Phillips at the Club Cafe in Pittsburgh, Pa., Summer 2006.
A must-own recommendation from Jason: Glen's "Abulum" DVD. (This features live, solo-acoustic performances and interviews. Buy it!)
Toad on Twitter: @ToadWetSprocket
Glen's favorite Toad album: Dulcinea
Jason's favorite Toad album: Pale
Other Glen Phillips CDs that Jason recommends:
Other Toad the Wet Sprocket CDs that Jason recommends:
Some Live Glen YouTube Videos That Jason Recommends:
"Train Wreck" (live) Listen to this lyric-writing!
The Songwriting Podcast posts new episodes on the first day of every month — and we'll be posting Episode 10 here on June 1. If you aspire to be a professional musician and you haven't heard our previous show, Episode 9, featuring "Nashville" Steve Rempis, then this is a must-listen podcast episode. (And by the way, if you dig horror movies, Craig and Jason host a horror movie podcast called HORROR METROPOLIS. Check it out!)
We'd like to thank the Dave Eaton Element for the use of its tunes for our theme music, and we'd also like to thank Kara Brewer for her graphic design work.
This bonus episode of The Songwriting Podcast was recorded on May 2, 2012.