Podcast: Play in new window | Download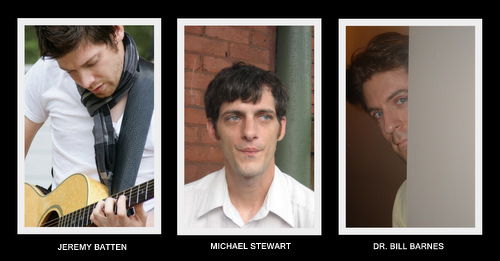 The Songwriting Podcast is a monthly music podcast where three hosts revel in the technical and creative aspects of the craft of songwriting, with the help of guest songwriters or some other music industry professionals.
Episode 8 features three songwriters: Jeremy Batten, Michael Stewart, and Bill Barnes.
(Jeremy and Michael also play for the band The Ultimatums. You can also find Michael Stewart on Facebook.)
Our topical themes are Composition — with some music theory discussion included — and Writing Concise Lyrics and overall Writing Method, among other things. We take an in-depth look at Jeremy's song, "Questions" — and we also listen to Michael's song, "Nothing."
And of course, this episode also features specialty segments, such as Send Your Song (where we have two very interesting submissions to review: "Lost and Found" by Vincent Tomasso and "In the Sky" by Fizzy Mits); Don't Do the Dumb Things That Jason Did (led by Jason's long-time songwriter best friend, Bill Barnes); and Moving to Nashville, which features "Nashville" Steve Rempis. We also introduce Jason's new songwriting student, Mesake Finau, who brings us "Mesake's Tunes," a segment that will supplement Craig Can Write. Grant Adams was unable to join us again this month, so his Grant's Rants … and Raves! segment is still missing.
Moving to Nashville: This month Nashville Steve Rempis teaches us about copyrighting. Thanks, Steve!
Send Your Song: The hosts of The Songwriting Podcast invite budding — as well as seasoned songwriters — to send their songs to us, and we will critique them on the show, giving constructive feedback, which consists of positive and negative points, and is merely based on our opinions. Feel free to contact us about sending your song at SongwritingPodcast@Gmail.com.
Your hosts of The Songwriting Podcast are Craig Tovey, Grant Adams and Jason Pyles. The Songwriting Podcast posts new episodes on the first day of every month. To contact us or to send your feedback, you can leave a voice mail at (801) 382-8789, or as noted above, you can e-mail us at SongwritingPodcast@Gmail.com. And you can also find us on Facebook.
We'd like to thank the Dave Eaton Element for the use of its tunes for our theme music, and we'd also like to thank Kara Brewer for her graphic design work.
Episode 8 of The Songwriting Podcast was recorded on March 21, 2012.