Podcast: Play in new window | Download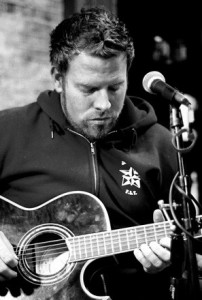 The Songwriting Podcast is a monthly music podcast where three hosts revel in the technical and creative aspects of the craft of songwriting, with the help of a guest songwriter or some other music industry professional.
Episode 1 features folk rock songwriter Dave Eaton of the Dave Eaton Element. Our discussion topic theme is personal songwriting versus commercial songwriting, among other things. We take a closer look at Dave Eaton's song "Cherubic," and of course, this episode also features our specialty segments, Grant's Rants — and Raves, Send Your Song and Craig Can Write — which are all explained more below.
Grant's Rants: Rant — Katy Perry, "Last Friday Night." The wannabe actor / singer who started her career with the ghastly "I Kissed a Girl," dishes out more of the same, brainless schlock that we've come to expect. Quick sample of the lyrics: "Last Friday night, yeah, we danced on table tops, and we took too many shots — think we kissed, but I forgot." She tries to be naughty; she tries to be funny but ends up simply trying too hard.
Rave: Steely Dan, "Do It Again" — The breakout hit from their first album back in 1972 delivers more than you might expect from just reading the song title. The lyrics from the chorus are equally simple: "You go back, Jack, do it again; wheel turnin' round and round" (repeat). But the variety of the lyrics in the verses really delivers. They cover topics of addiction, second chances and the inevitability of fate. Plus, the song is super-catchy and reels you in from the beginning with a toe-tapping introduction featuring drums and congas played by Jim Hodder.
Rave: Amy Winehouse, "Back to Black" — Yes, everyone has been picking up Winehouse's music since her untimely death, but it is well worth getting into. Her second album, "Back to Black," is amazing and absolutely deserves its five Grammy Awards.
Send Your Song: The hosts of The Songwriting Podcast invite budding and seasoned songwriters to send your song to us, and we will critique it on the show, giving constructive feedback on your work, which consists of positive and negative points, and is merely based on our opinions. For our first show, host Jason Pyles volunteered his song, "Waltz Into the Water," for the Send Your Song review segment. Contact us about sending your song at SongwritingPodcast@Gmail.com.
Craig Can Write: Host Craig Tovey is a musician but not a songwriter … yet. He is going to be learning how to write songs from co-hosts Jason Pyles and Grant Adams — as well as from talking with our various guests. Craig is going to have at least one formal songwriting lesson from Jason each month, and then he'll implement what he's learning and report on his journey each month. Eventually, we'll be hearing Craig's own original songs. Craig can write, and our assertion is — you can, too!
Your hosts are Craig Tovey, Grant Adams and Jason Pyles. The Songwriting Podcast posts new episodes on the first day of every month. To contact us or to send your feedback, you can leave a voice mail at (801) 382-8789, or as noted above, you can e-mail us at SongwritingPodcast@Gmail.com. And you can also find us on Facebook.
For more information on Dave Eaton, you can sample or order his music at http://daveeaton.bandcamp.com/. Listen to Dave Eaton's "Autism Anthem" on YouTube. And you can contact Dave Eaton at EatonElement@Gmail.com.
We'd like to thank the Dave Eaton Element for the use of its tunes for our theme music, and we'd also like to thank Kara Brewer for her graphic design work.
And by the way, if you like this podcast, Jason hosts two other movie-related shows called the Considering the Sequels Podcast and The Best Picture Podcast.
Episode 1 of The Songwriting Podcast was recorded on August 4, 2011.